Lockdown-3
Referrals / Obtaining items from Turntable:
During lockdown we will be open for URGENT referrals only.
If a referrer believes a client's need is urgent or essential, then please send us the referral form and a list of items that are needed. Turntable personnel will pick out the items and then liaise with the client regarding delivery. No members of the public will be allowed into the warehouse.
On the delivery day, we will contact the client with an estimate of time of delivery and to ensure they have the cash on them to pay for the items; this will be collected before delivery takes place. If, when we get to the property, the client does not have the payment, no delivery will take place.
Clients are welcome to pay and collect items in person rather than wait for a delivery if they prefer. Please get in touch beforehand to let us know you going to do so.
Collections / Donations:
No collections will take place during lockdown. We have had to cancel all scheduled collections that had been booked.
We will allow items to be dropped down to our premises Mon-Fri, between 10am & 2pm. Please check someone will be on site before making your journey. All items will need to be checked by Turntable personnel before we can accept them. In some cases we may turn items away due to current stock levels.
Please do not leave items outside of our premises whilst we are closed. This is fly-tipping, and is both hazardous and illegal. Turntable have to pay to dispose of damaged / unsuitable items. By doing this, not only are you not helping others but you're effectively taking help away from them.
Once lockdown ends, if you still have the items you were offering, you will need to contact us again to rearrange your collection. Please bear with us - there is likely to be a very high demand for collections, so you may have to wait several weeks for your collection to be slotted in.
For many a home with no furniture is stark reality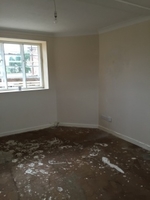 Turntable Furniture aims to improve the lives of those on very low income by providing them with the essentials to set up a home, re-using donated household items, that are in good, clean condition, that would doubtless have gone to landfill.

Kindly note: Turntable Furniture is NOT a shop and thus is unable to supply items to those merely looking for a bargain. In order to get items from us, you cannot simply turn up at the door but need to: a) be in receipt of a means-tested benefit, b) live within our area of coverage, and c) be referred to us by an approved referrer. Please see the "Need Furniture" tab for full details.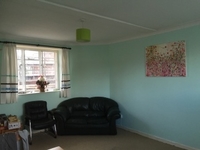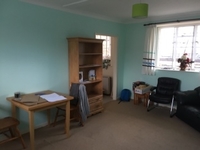 Please help us to make houses into homes by donating household items that you no longer require.

Turntable Furniture - Helping local people furnish their homes
* Images show an actual example of a dwelling in Exeter, courtesy of the client.
All items shown have been supplied by Turntable.