Collections / Donations:
We are currently very low in stock for items with the highest demand - larger divan-type beds, wardrobes, large modern chests of drawers, and large kitchen appliances. We are prioritising collection of these items over others.
Conversely, due to sufficient stock levels, we are unable to accept armchairs, single beds, tables, and housewares; in addition, we are having to restrict intake of some larger furniture items. Collections / drop-offs involving a large number of items also cannot be accommodated at present.
Items can be dropped down to us 8am-12noon Mon-Fri only, but we may have to turn them away if unsuitable or we have sufficient stock; please bear with us in this - all charity shops are very full and are having to adopt the same strategy.
We politely ask that items are NOT left outside our premises whilst we are closed. This is fly-tipping, and is both hazardous and illegal. Turntable has to pay to dispose of such items - it may help you, but it hinders rather than helps our work. Please wait until we're open, or take items to your nearest Refuse Centre. We are not a dumping ground.
Referrals / Obtaining items from Turntable:
You can only get items from us if you are on a means-tested benefit or very low income, and have received a completed Turntable Referral Form from a referrer. Many referrers don't meet their clients face-to-face, but are still able to electronically issue a Form to you.
Once you have received your Form, you have two ways of getting items from us:

1) Register on our portal turntableportal.org. To see the items available, you will need to email us a copy of your Form; we will then give you access-permission.

2) Visit our warehouse. You will only be allowed into our warehouse to choose items if you bring your Form with you, or we have received an emailed copy of your Form before you visit. An appointment is not required, but as the number of clients in the warehouse is very limited, there could be quite a wait at busy times (usually 10am - 1pm).
Stock levels often vary depending on what you require. It's highly likely that if you require the same items that most people want - a sofa, a double bed, bedroom storage, a large kitchen appliance - then stock will be extremely limited over long periods.
For many a home with no furniture is stark reality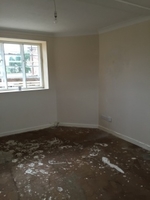 Turntable Furniture aims to improve the lives of those on very low income by providing them with the essentials to set up a home, re-using donated household items, that are in good, clean condition, that would doubtless have gone to landfill.

Kindly note: Turntable Furniture is NOT a shop and thus is unable to supply items to those merely looking for a bargain. In order to get items from us, you cannot simply turn up at the door but need to: a) be in receipt of a means-tested benefit, b) live within our area of coverage, and c) be referred to us by an approved referrer. Please see the "Require Items" tab for full details.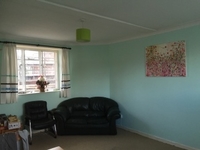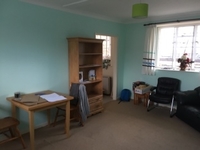 Please help us to make houses into homes by donating household items that you no longer require.

Turntable Furniture - Helping local people furnish their homes
* Images show an actual example of a dwelling in Exeter, courtesy of the client.
All items shown have been supplied by Turntable.