Does your client require items?
In order for your client to access our service, you will need to complete a Turntable Referral Form with them. If you don't have one of these to hand, please contact us, stating your organisation and contact details, and we'll email one to you. To prevent fraudulent use, the Form is NOT available for download from this website.
Once the Form has been fully completed, please ensure that you have signed & dated it and have included your contact phone number. Preferably give a hard-copy to your client. However, if you're unable to meet your client in person, please email the completed Form back to us / your client, and let your client know you have done so. Please do not post the Form to us as it may go astray or your client may attempt to access our service before the Form arrives.
If your organisation is going to provide funding for your client, please ensure that you notify us via email before your client accesses our service, stating the maximum amount of funding available and providing a Purchase Order reference if your finance department requires this.
Once everything is in place, your client can access our service in 1 of 2 ways:
1) Register on our portal turntableportal.org. To see the items available, your client will need to email us a copy of their Referral Form; we will then give them access-permission.

2) Visit our warehouse. Your client will only be allowed into our warehouse to choose items if they bring their completed Form with them, or we have received an emailed copy before they visit. We will try to overcome any difficulties by attempting to contact you via the phone number you have given on the Form.
An appointment is not required before coming to our warehouse, but as the number of clients therein is very limited, there could be quite a wait at busy times (usually 11am - 2pm).
We ask that when you &/or your client visit us, you ensure that you:
Take time beforehand to think about the items required & mark these on the Form
(it will save a lot of time on the day!)
Have sufficient funds in place to pay for the items at time of choosing (items cannot be "reserved" until they can be paid for). If the items are being funded, we need to have received notification of this before you visit, and the maximum amount of the funding; if we haven't, your client will be expected to pay
Don't come to choose items more than a week before you need them delivered
(our storage capacity is very limited)
Allow around an hour to choose your items (please note our closing time). If at all possible come before midday as things get rather busy in the afternoon.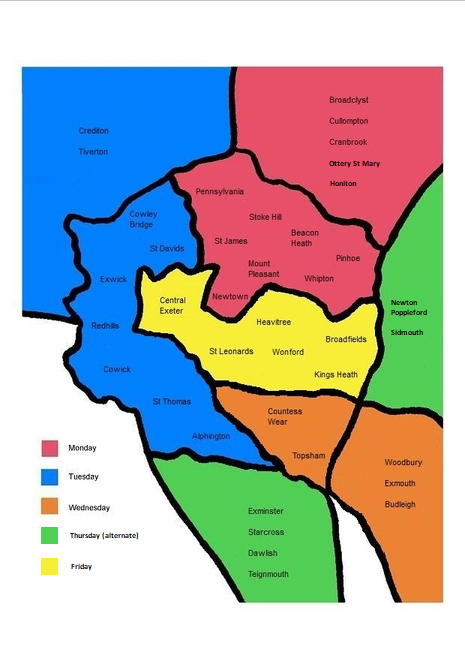 Kindly note that we have a limited coverage area (see map above for guidance). We don't have the means to cover a larger area, nor do we allow clients to have furniture from us outside this area, even if they pay for delivery or can transport it themselves. This allows us to keep things fair for those within the area that we are able to cover.
Delivery to districts within Exeter takes place daily, Monday to Friday. Delivery to towns outside of Exeter takes place only on the days shown on the map above.